Welcome!
Hello. My name is Arnab Tulio Sanyal.Welcome to my web-site!

This site is a member of the Sanyal family web-site (http://www.sanyal.org).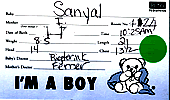 My parents Ipshita and Supratim Sanyal are maintaining this site till I can take over.
If you want, you can listen to the Washington Bangla Radio station while you are surfing.
Here is a little footage documenting my proficiency with an audio mixer:

Here is proof that I can hear pretty well: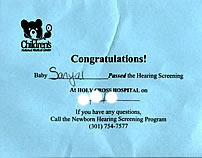 Here is a picture of the wristband that my Dad wore while I was at the hospital:

And here is a picture of the badge that my sister Tula wore when she came to meet me for the first time:


Thank you for visiting and enjoy your stay !